Austria
Austria is a country on the continent of Europe
Brief History
The Republic of Austria is a country in Central Europe, located on the east side of the Alps. Humans have lived in the area now known as Austria as far back as the Stone Age. The name Austria has been used since 996 AD. It was ruled by the House of Austria which was one of the most influential and distinguished royal houses of Europe. Austria was part of the Holy Roman Empire until it ended in 1808. It then became the Austrian Empire, later combined with Hungary and, after World War 1, became the First Austrian Republic. Austria was independent between 1918 and 1933, but was then annexed by Nazi Germany. In 1955, ten years after World War II, Austria again became an independent republic, the Second Austrian Republic.

National Flag
The national flag of Austria is the second oldest country flag in the world. It has three stripes, the top and bottom ones are red and the middle one is white. The red in this flag symbolizes strength and bravery, and the white symbolizes truth and honesty. When the Austrian flag is flown by the government, a black eagle is incorporated in the center.
Geography
Austria is a landlocked country located in the southern part of Central Europe. It borders the Czech Republic, Germany, Hungary, Italy, Liechtenstein, Slovakia, Slovenia, and Switzerland. The majority of Austria is a mountainous and forested country. The northeastern part of Austria contains lowlands. These lowlands have most of the country's farmland.
World Land Mass Ranking: 112th
Highest Mountain: Grossglockner, 12,461 ft (3,798 m) above sea level
Longest River: Danube, 2,850 km (1,771 miles)
Main Languages
German (official), Alemannic, Austro-Bavarian, Croatian, Hungarian, Slovenian, and Turkish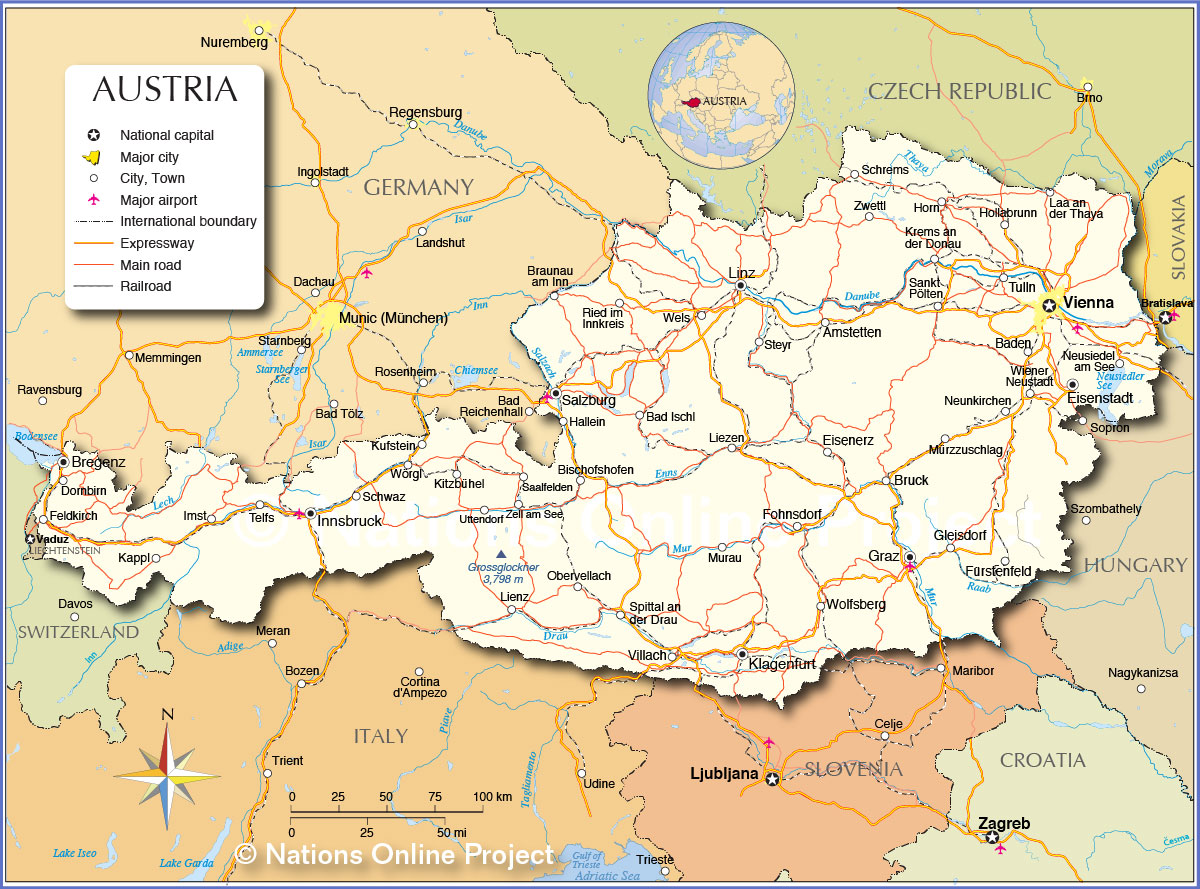 Austria Population: 8.9 million (as of 2019)
Capital City: Vienna
Capital City Population: 1.9 million (as of 2019)
Climate
Austria has a temerate and alpine climate. Temperatures are warm in the summer, and winters are cool with temperatures regularly dropping below zero. The country does have four distinct seasons, but for the majority of the year, Austria is cold and wet. This makes it ideal for winter sports and games.
Key People

Cuisine

Many different cultures have contributed to Austria's cuisine. Breakfast is considered an important meal in Austria. Bread rolls with either jam or cold cuts of ham or veal are a popular breakfast. That would be paired with coffee, boiled eggs, cakes, pastries, and orange juice. The most common meats in Austria are beef, pork, chicken, turkey, and goose. Sausages are very popular as well. Some popular dishes in Austria are Apfelstrudel (a traditional pastry filled with apples and spices), Wienerschnitzel (A deep-fried meat, usually veal, coated in breadcrumbs), and Tafelspitz (boiled veal or beef in broth, served with horseradish and minced apples).

Left is a picture of Tafelspitz, a common dessert in Austria.

Sports

Due to the mountainous and cold climate of Austria, winter sports such as alpine skiing, ice hockey and snowboarding are very popular. The excellent conditions for these winter sports are one of the reasons that many tourists visit Austria. Austrian teams have won numerous awards and titles in alpine skiing and ski jumping. The winter Olympics have been held twice in the Austrian city of Innsbruck. Other, warm weather sports are also popular in Austria. The most common are Association Football, Soccer, Tennis, Basketball, and Rugby.

Left is a picture of an Austrian Hockey League match.

Culture

Being a landlocked country, Austria's culture is greatly influenced by its neighbors. One major part of Austrian culture is music. Vienna has long been considered the music capital of Europe, and is home to world-class music schools. Many famous composers, including Johan Strauss, Wolfgang Amadeus Mozart, and Joseph Haydn all lived and taught in Vienna. The city is also home to the famous Vienna State Opera and the Vienna Boy's Choir. There is beautiful architecture throughout the country, and Austria is famous for its castles, palaces, and buildings. The prominent religion in Austria is Christianity, with the majority of citizens being Catholic.

Left is a picture of Burg Kreuzenstein, a castle in Austria.

Austria is a beautiful country with wonderful people.

 

Download questions about the Austria here: Austria (answers are on this page)

Teachers. For more in depth work sheets on Austria. Click on Kidskonnect Worksheets

For further reading and more info on the Austria visit https://kids.kiddle.co/Austria
10 facts about Austria
1. The world's oldest zoo is located in Austria.
2. Austria became independent on October 26, 1955.
3. The sewing machine was invented in Austria.
4. Austria is home to the world's largest emerald.
5. Vienna is home to almost one-fourth of Austria's population.
6. Postcards were first published in Austria
7. The largest cave in the world is located in Austria.
8. Austria has nine federal states.
9. Austria is home to the world's oldest still-operating restaurant.
10. Austria is not a member of NATO.
Q&A Corner
1. What is the capital city of Austria?
+
2. Name a popular dish eaten in Austria?
+
3. What is the tallest mountain in Austria?
+
4. What is the most prominent religion in Austria?
+
5. What is the longest river in Austria?
+
6. Which of the arts is Vienna most famous for?
+
7. What is the main language spoken in Austria?
+
8. Name one of the most common sports played in Austria?
+
9. What continent is Austria on?
+
10. What colors make up the Austrian flag?
+