Belize
Belize is a country on the continent of North America
Brief History
The history of Belize dates back thousands of years to the time of the Mayans. The Mayans were an advanced civilization, they were skilled in mathematics, created their own calendar, and came up with the concept of the zero. The Mayans spread in the area that is now Belize from about 1500 BC to 1200 BC, and then prospered until about 1000 AD. Following the time of the Mayans, Belize was inhabited by other native peoples. Later English Puritans settled Belize and set up trading posts along the coast. For a time Belize became a hideout for pirates and buccaneers. Eventually, the main industry turned into logging. Baymen would use slave labor to cut down the mahogany and ship it to Britain. Then during the 1840s, Great Britain declared Belize to be the colony of British Honduras. It wasn't until September 21, 1981, that Belize gained independence. It officially turned from the colony of British Honduras to Belize.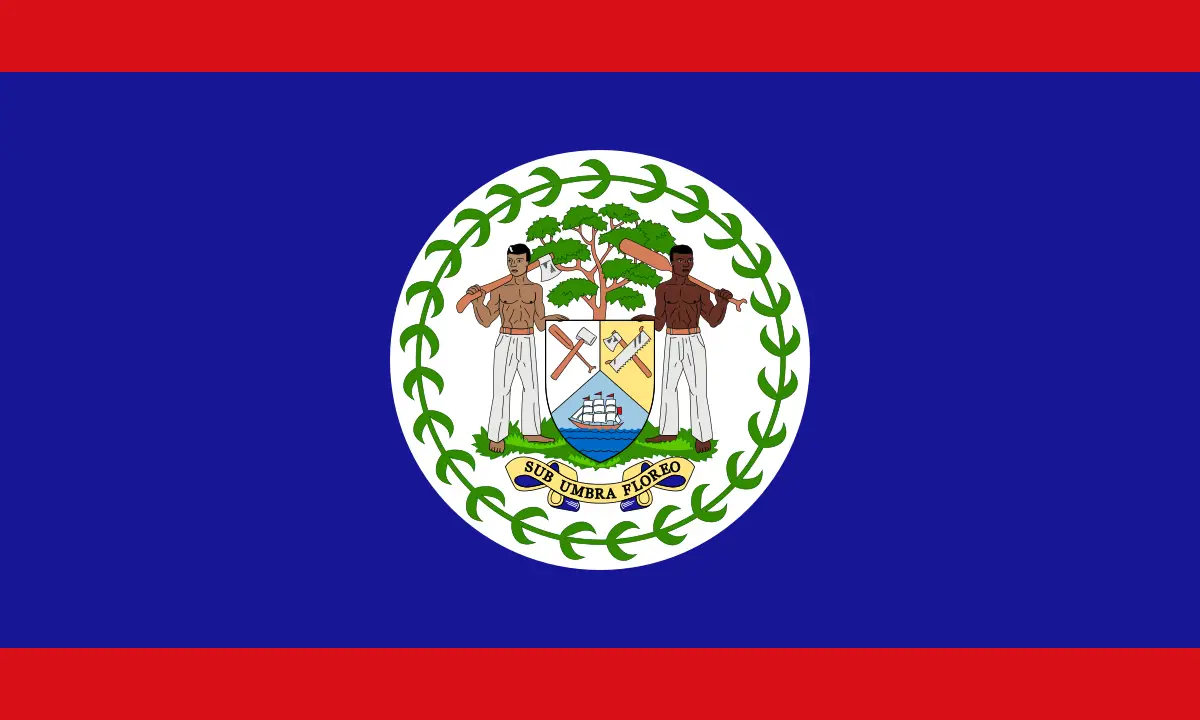 National Flag
The national flag of Belize is blue with a red stripe on both the bottom and the top. The national coat of arms is located in the center of the flag. This flag was adopted on the 21 of September 1981, the day Belize became independent. The red, white, and blue flag is a symbol of unity for Belize.
Geography
Belize is located in Central America, on the Western edge of the Caribbean Sea. Its borders are Mexico to the north and Guatemala to the south and west. Belize is a relatively small country and is mostly flat. On the coast, there is a swampy coastal plain that is mostly mangrove. In the south and more interior parts of Belize, there are hills and low mountains. Most of the land is forested and undeveloped.
World Land Mass Ranking: 151
Highest Mountain: Doyle's Delight, 1,124 meters (3,688 ft)
Longest River: Macal River, 199 miles
Main Languages
English (official), Spanish, Kriol, and Mayan languages.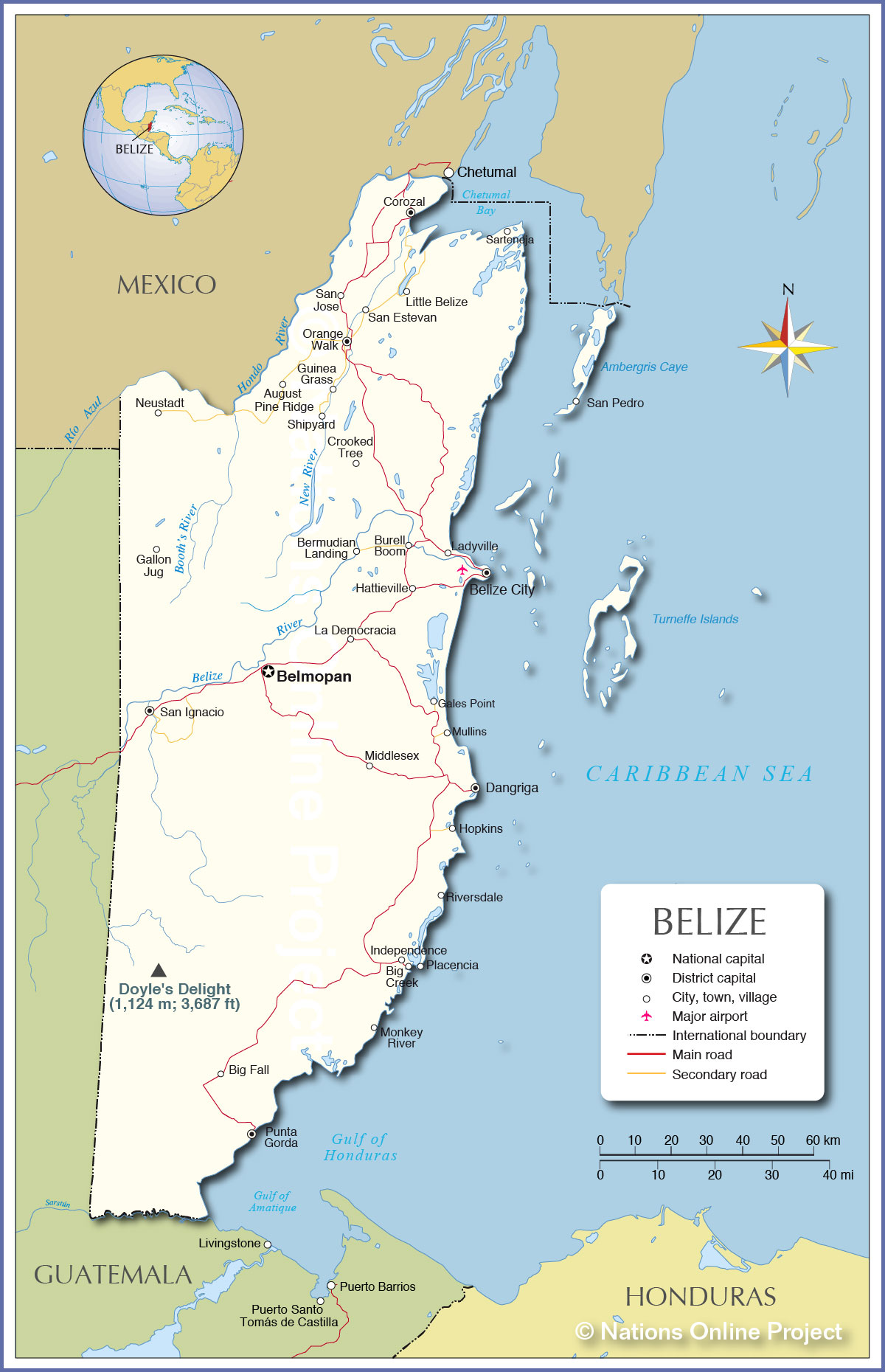 Belize Population: 397,628 (as of 2020)
Capital City: Belmopan
Capital City Population: 13,939 (as of 2010)
Climate
Belize has a subtropical climate with two seasons, rainy and dry. The best time of year to visit Belize is during the dry season, which is between January and May. It is typically both hot and humid year-round in Belize. Temperatures are pretty consistent, usually varying only about 5 degrees Celcius from the hottest to the coolest parts of the year.
Key People

Cuisine

The cuisine of Belize is diverse, with influences from African, Caribbean, and Mayan foods. The type of cuisine also depends on the location in Belize, whether it is more coastal or inland. The majority of Belizian dishes are made with fresh and organic food. Breakfast is an important meal in Belize and can consist of fry jacks, Johnnycakes, tortillas filled with eggs and beans, and fresh fruit. Popular lunch and dinner dishes include tamales, rice and beans, ceviche (raw fish cured in citrus juice and seasoned with spices), and empanadas (a baked or fried turnover filled with a variety of ingredients).

\left is a picture of a typical Belizean meal.

Sports

Although Belize is not highly involved in many professional sports competitions (partly for financial reasons), sport is still an important part of life. Football is considered the most popular sport in Belize, and is also the national sport. Other popular sports are basketball, cycling, softball, volleyball, cricket, rugby, and track and field. Belize has a lot of water, from the ocean to mountain streams and waterfalls. Because of this, watersports are popular in Belize, including snorkeling, scuba diving, windsurfing, kayaking, and sailing.

Left is a picture of competitors at the 2016 La Ruta Maya.

Culture

Many different ethnic groups, including Creole, European, Garifuna, Asian, Mayan, Mestizo, and East Indian live in Belize, making the culture very diverse. Each of these very different cultures have their own things to add to Belize, making it unique. Belize has more in common with its Caribbean island neighbors than it does with its bordering Spanish-speaking countries. Music is an important part of the culture in Belize, usually in the traditional Caribbean styles such as reggae and calypso. Other music from the USA, such as rap and hip hop, is also popular. Christianity, more specifically Roman Catholicism, is the most common religion in Belize, followed by Pentecostal, Seventh-day Adventist, Anglican, and other religions.

Left is a picture of the Altun Ha, a remnant of Mayan culture.

Belize is a beautiful country with wonderful people.

 

 

Download questions about the Belize here: Belize (answers are on this page)

For further reading and more info on the Belize visit https://kids.kiddle.co/Belize
10 facts about Belize
1. Belize is home to the only jaguar preserve in the world.
2. Around 1 million tourists visit Belize each year.
3.The national flower of Belize is the black orchid.
4. Many people in Belize can speak at least 2 languages.
5. Belize is the capital of the ancient Mayan empire.
6. Half of Belize is covered in dense rain-forest.
7. Belize is one of the least populated countries in the world.
8. The average lifespan in Belize is 74 years.
9. More than 400 species of fish live in Belize's Barrier Reef.
10. The national animal of Belize is the Tapir.
Q&A Corner
1. What is the tallest point in Belize?
+
2. What is the capital city of Belize?
+
3. Name a key/famous person that was born in Belize?
+
4. What were the Mayans known for?
+
5. What is the official language of Belize?
+
6. Name one of the countries that border Belize?
+
7. In what year did Belize gain its independence?
+
8. Name a sport that is popular in Belize?
+
9. What is the longest river in Belize?
+
10. Describe the climate in Belize?
+