Cyprus
Brief History
Due to its location at the crossroads of Europe, Asia, and Africa, Cyprus was a part of many different ancient civilizations. From around 800 BC to 330 AD, Cyprus was ruled by the Assyrian, Persian, and Roman Empires. Starting in 330 AD and continuing for 800 years, Cyprus was a part of the Byzantine Empire. Following this, Cyprus changed hands many times again until eventually being taken over by the Ottoman Turks. In 1878, Great Britain took over the island, making it a Crown Colony. In 1960, Cyprus gained independence from Great Britain. Starting in 1974, Cyprus has been divided into two sections due to different factions not getting along. The Republic of Cyprus occupies the southern two-thirds of Cyprus, and the Turkish Republic of Northern Cyprus occupies the northern third.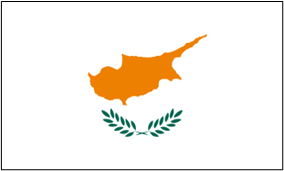 National Flag
The National flag of Cyprus came into use on August 16th, 1960. The flag has an orange outline of the island on a white background. The two olive branches below Cyprus are a symbol of peace between the Greek and Turkish Cypriots.
Geography
Cyprus is an island nation located south of Turkey in the Mediterranean Sea. Cyprus has two mountainous regions, the Kyrenia Mountains and the Troodos Mountains. The island also has plains, forests, and a beautiful coastline.
World Land Mass Ranking: 168th
Highest Mountain: Mount Olympus, 1,951 m (6,404 ft)
Longest River: Pedieos, 98 km (61 mi)
Main Languages
Greek, Turkish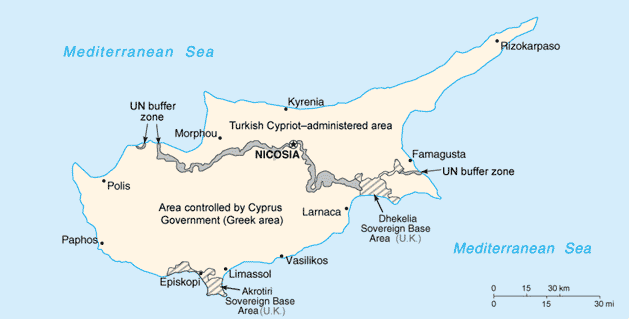 Cyprus Population: 875,899 (as of 2019)
Capital City: Zagreb
Capital City Population: 806,341 (as of 2019)
Climate
Cyprus has a Mediterranean climate. It has long, warm and dry summers. Winters are generally mild, with some rain between December and February. The Troodos Mountains are the only place in Cyprus that receives snow.
Key People

Cuisine

Cypriot cuisine has Greek, Turkish, and Italian influences. The island's Mediterranean climate provides ideal growing conditions for a wide variety of fruits and vegetables, including green peppers, zucchini, grapes, nectarines, pears, and much more. Spices and herbs are often used in Cyprotic dishes, especially parsley, pepper, oregano, thyme, and coriander. A variety of meats, seafood, cheese, baked goods, and pasta are all common in Cypriot cuisine.

Sports

The most popular sport in Cyprus is football, which was introduced to the island in the early 20th century by the British. Other common sports in Cyprus include golf, horseback riding, cycling, and tennis. Other sports that are popular in Cyprus have to do with the island's geography and climate. Due to its excellent weather and varied terrain, Cyprus is a great place for air sports such as parachuting and paragliding. Hiking, fishing, and water sports are also popular.

Culture

The culture of Cyprus is divided between the southern Greek and the northern Turkish sections of the country. Turkish Cypriots maintain their own Turkish and Islamic culture, while the Greek Cypriots speak a dialect of Greek and keep traditions from Greece. Both groups share a love of good hospitality and love to celebrate occasions with music and dance. Other important aspects of culture throughout Cyprus include visual art, architecture, poetry, and literature.

 

Cyprus is a beautiful country with wonderful people.
10 facts about Cyprus
1. Cyprus is the third-largest island in the Mediterranean.
2. The national animal of Cyprus is the Cypriot Mouflon.
3. Cyprus has been a part of the EU since 2004.
4. 140 species of flowering plants live exclusively in Cyprus.
5. Cyprus enjoys about 320 sunny days each year.
6. There are over 1.5 million cats living in Cyprus.
7. It would only take a couple of hours to drive across Cyprus.
8. Cyprus is home to around 20 rare orchid species.
9. The world's oldest wine label belongs to Cyprus.
10. The official currency of Cyprus is the Euro.
Q&A Corner
1. The official currency of Cyprus is the Euro.
+
2. What is on the Cypriot flag?
+
3. What is the highest mountain in Cyprus?
+
4. Name a key/famous person from Cyprus?
+
5. What two groups make up the two sections of Cyprus?
+
6. What languages are spoken in Cyprus?
+
7. Name a spice or herb often used in Cypriot cuisine?
+
8. What is the population of Cyprus (as of 2019)?
+
9. Name a sport that is popular in Cyprus?
+
10. What is the longest river in Cyprus?
+