Eswatini
Brief History
Humans have inhabited what is now Eswatini (formerly known as Swaziland) for a very long time. Artifacts dating back to the early Stone Age have been discovered in the area. The present people of Eswatini originally migrated south to Mozambique before the 16th century. Due to conflicts with Zulu tribes, the Swazis were forced to move northward. By the 1800s, the Swazis were established in what is now Eswatini. One important leader of the Swazi people was Mswati II. At one point, he asked British authorities for assistance protecting Eswatini from Zulu raids. In 1906, The Kingdom of Eswatini became a High Commission Territory, under British rule. Eswatini remained under British control for many years, until gaining independence in 1968.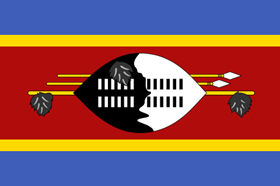 National Flag
The national flag of Eswatini was adopted on October 6, 1968–one month after the country gained independence from Britain. It was designed by King Sobhuza II. The flag features a traditional black and white Nguni shield in the center, with a background of blue, yellow, and red stripes.
Geography
Eswatini is a landlocked country located in southeastern Africa. It is bordered by South Africa to the north, west, and south, and by Mozambique to the east. Eswatini has a diverse geography, with mountains, savannahs, and rainforests.
World Land Mass Ranking: 158th
Highest Mountain: Emlembe, 1,862 m (6,109 ft)
Longest River: Maputo River, 162 km (101 mi)
Main Languages
Swazi, English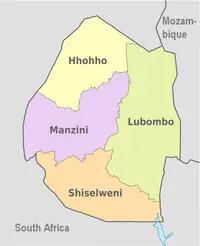 Eswatini Population: 1.16 million (as of 2020)
Capital Cities: Mbabane, Lobamba
Capital City Population: Mbabane: 95,000 Lobamba: 9,900 (as of 2021)
Climate
The climate of Eswatini varies depending on the region, but the general climate is characterized as subtropical, with two main seasons. Eswatini has hot and wet summers, and cool dry winters.
Key People

Cuisine

Eswatini cuisine draws influences from its neighbors South Africa and Mozambique, as well as Portuguese, Dutch, and English cuisines. The cuisine of Eswatini also varies depending on the geographical region or season. The national dish of Eswatini is karoo roast ostrich steak. Other traditional foods include Sishwala, which is a thick porridge that is usually served with meat or vegetables, and Incwancwa, which is a sour porridge made from fermented cornmeal.

Sports

Like many other African countries, the most popular sport in Eswatini is football. International football matches are held at the Somhlolo National Stadium in Lobamba. Eswatini football club teams participate in the CAF Champions League and the CAF Confederation Cup. Other sports that are common in Eswatini include rugby, cycling, and cricket.

Culture

Swazi culture refers to the customs, way of life, and beliefs of the Swazi people. Eswatini is one of the few remaining monarchies in Africa, and the Swazi people uphold their own unique and ancient traditions. There are two main cultural events in Eswatini: the Incwala in  December and the Umhlanga in August. Swazi culture has a rich background, and includes the distinct music, food, architecture, and kinship of the people.
10 facts about Eswatini
1. Eswatini has both black and white rhino species.
2. The main exports of Eswatini are sugar, wood pulp, and beef.
3.Eswatini is home to the world's oldest mine.
4. Eswatini is one of the smallest countries in Africa.
5. The life expectancy in Eswatini is 60 years.
6. Eswatini changed its name (from Swaziland) in 2018.
7. About 25 plant and animal species are endemic to Eswatini.
8. Eswatini is the only absolute monarchy in Africa.
9. The second-largest rock can be found in Eswatini.
10. Eswatini is home to some of the oldest mountains in the world.
Q&A Corner
1. Name a food that is popular in Eswatini?
+
2. What is the national sport of Eswatini?
+
3. What are the two capital cities of Eswatini?
+
4. Name an official language spoken in Eswatini?
+
5. What type of government does Eswatini have?
+
6. Name a key/famous person from Eswatini?
+
7. What continent is Eswatini located on?
+
8. Name the highest mountain in Eswatini?
+
9. When did Eswatini gain independence from Britain?
+
10. Name a country that borders Eswatini?
+