Gabon
Brief History
Pygmies were the earliest humans in Gabon, and their existence can be dated back to 7000 BC. During the 13th century, Bantu tribes entered the area. The first European exploration of Gabon was during the 15th century, when Portuguese explorers came to the area. The Dutch arrived in Gabon In 1953, followed by the French in 1630. France occupied Gabon in 1885, and it became a part of French Equatorial Africa in 1910. On August 17, 1960, Gabon gained its independence. The first president of Gabon was Léon M'ba, who was elected in 1961.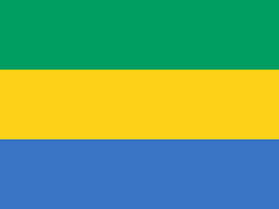 National Flag
Gabon's national flag is a horizontal tricolor of green, yellow, and blue. It was adopted in 1960 to replace the previous colonial flag. The green stripe represents forests, yellow symbolizes the equator, and blue represents the sea.
Geography
Gabon is located at the equator in west-central Africa. It is bordered by the Atlantic Ocean to the west, and also borders Cameroon, Equatorial Guinea, and the Republic of Congo.
World Land Mass Ranking: 77th
Highest Mountain: Mount Iboundji, 1,575 m (5,167 ft)
Longest River: Ogooué River, 1,200 km (750 mi)
Main Languages
French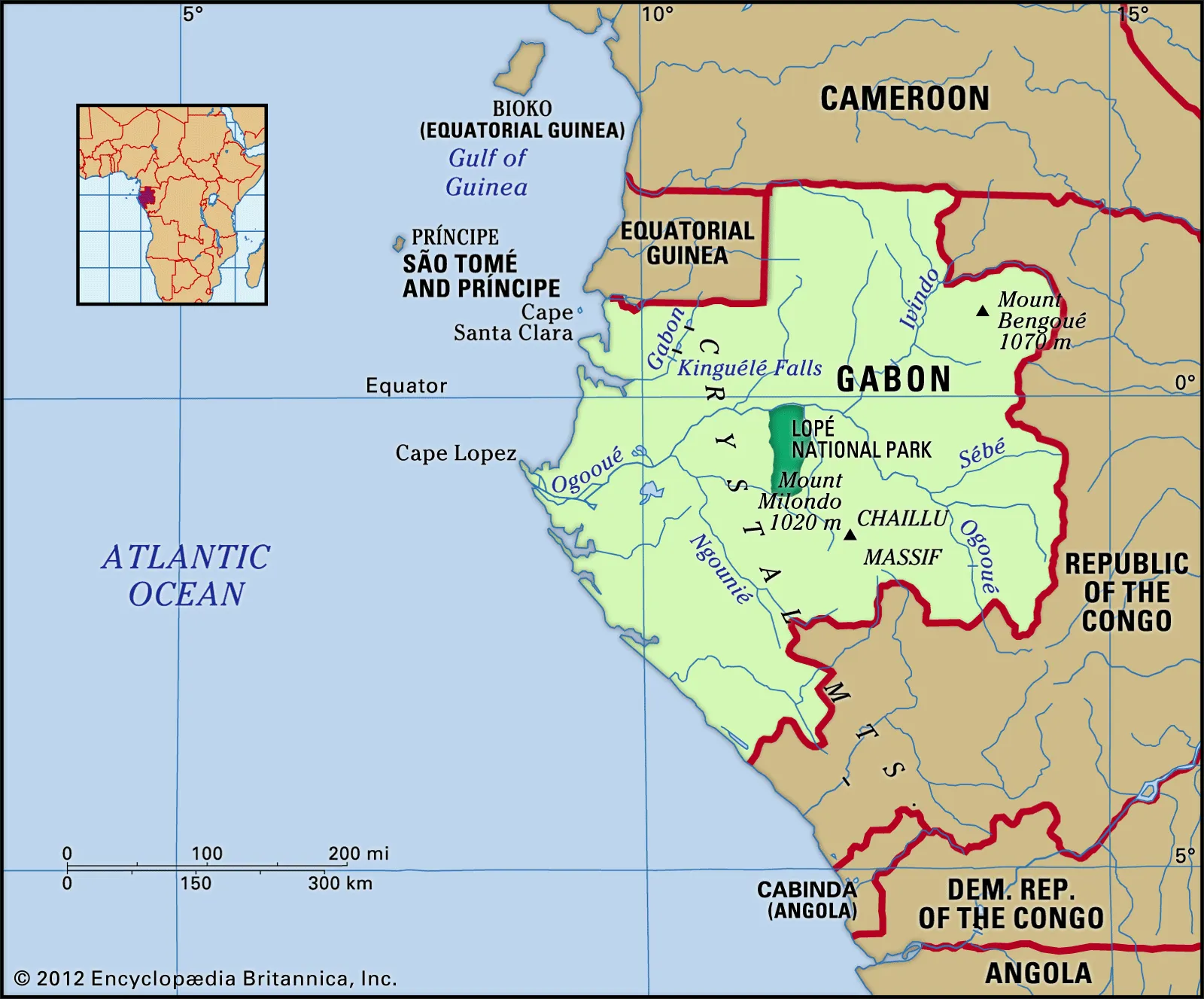 Gabon Population: 2.2 million (as of 2020)
Capital City: Libreville
Capital City Population: 857,000 (as of 2022)
Climate
Gabon is a tropical country with a moist, hot climate year-round. The hottest month in Gabon is January, and the coolest month is July. Gabon receives high annual rainfall.
Key People

Cuisine

Gabonese cuisine is shaped by its climate and geography, as well as French influence. In rural areas, local ingredients such as cassava, rice, and yams are commonly used in dishes. A large selection of fruit is grown in Gabon, including papayas, bananas, mangoes, guavas, pineapples, and avocados. Common Gabonese meats are chicken, fish, wild boar, and antelope. The national dish of Gabon is Nyembwe Chicken, which is smoked chicken cooked in palm nut butter.

Sports

The most popular sport in Gabon is football. The Gabonese people usually play football near coastal areas, because most of the inland territory is covered in dense forest. The Gabon national football team, The Panthers, have qualified for the Africa Cup of Nations five times. Basketball is also a popular sport in Gabon, and the country has been a part of the International Basketball Federation since  1965.

Culture

Gabonese culture is influenced by its proximity to other West African nations, as well as French control. There are over forty ethnic groups in Gabon, the largest being the Fang, who make up 40% of Gabon's population. French is the national language of Gabon, although many Gabonese people speak the language of their ethnic group as well. Dance, music, myths, arts, and poetry are all important aspects of Gabonese culture.
10 facts about Gabon
1. The black panther is Gabon's national animal.
2. The equator passes through Gabon.
3. Gabon has been inhabited for over 400,000 years.
4. Over 11% of the country is protected parkland.
5. Gabon's main export is Crude Petroleum.
6. Gabon has one UNESCO World Heritage site.
7. More than 88% of Gabon is rainforest.
8. The national motto is "Union, Work Justice.
9. Gabon is home to the leatherback sea turtle.
10. Gabon is home to most of Africa's gorillas.
Q&A Corner
1. What is the population of Gabon (as of 2020)?
+
2. Name a fruit that is grown in Gabon?
+
3. What is the highest mountain in Gabon?
+
4. Name a country that borders Gabon?
+
5. When did France occupy Gabon?
+
6. What is the capital city of Gabon?
+
7. Name a key/famous Gabonese?
+
8. When did Gabon gain independence?
+
9. What is the longest river in Gabon?
+
10. What is the most popular sport in Gabon?
+