Grenada
The first inhabitants of Grenada were the Arawak-speaking Amerindians from South America. Evidence shows that the Amerindians were agriculturists and fishermen. They were driven out by the Caribs. Christopher Columbus reportedly sighted Grenada during his third voyage to the New World in 1498. In 1650, the French governor of Martinique purchased Grenada from the English and established a settlement. In 1762, Grenada was captured by the British during the Seven Year's War. The British imported slaves to Grenada to work on sugar plantations. Grenada gained its independence on February 7, 1974.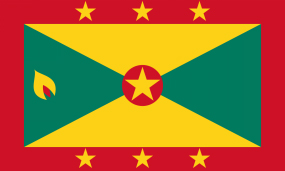 National Flag
The national flag of Grenada was adopted in 1974, the year of the country's independence. The six bordering stars represent the six parishes, and the red disk in the center stands for the capital. The red color symbolizes vitality, green agriculture, and yellow wisdom.
Geography
Grenada is an island country located in the eastern Caribbean sea. It is northwest of Trinidad and Tobago, northeast of Venezuela, and southwest of Saint Vincent and the Grenadines. Grenada is rugged and mountainous, with tropical rainforests.
World Land Mass Ranking: 206th
Highest Mountain: Mount Saint Catherine, 840 m (2,760 ft)
Longest River: Great Palmiste River 30 km (19 mi)
Main Languages
English, Grenadian Creole, French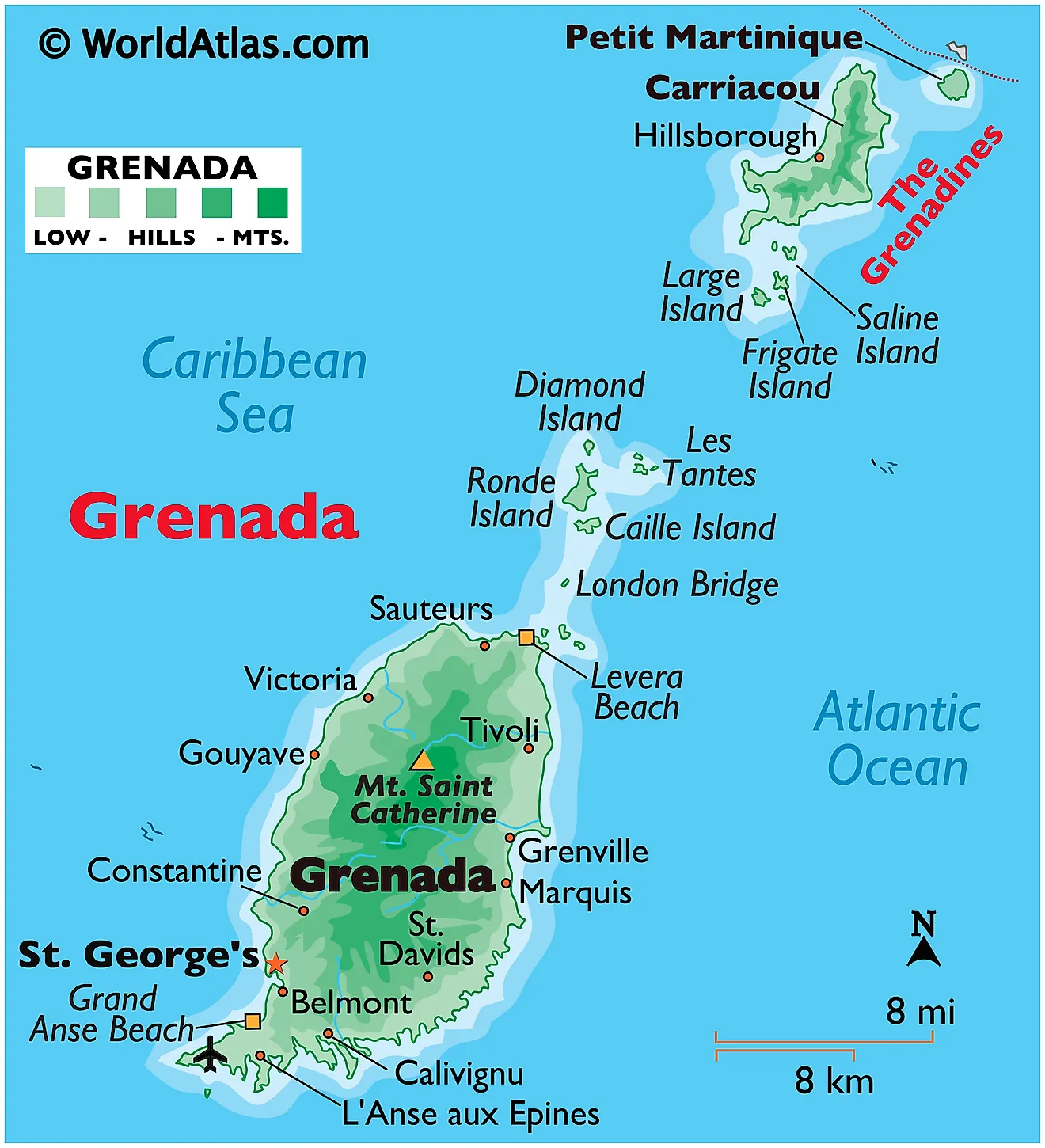 Grenada Population: 113,000 (as of 2021)
Capital City: St. George's
Capital City Population: 34,000 (as of 2022}
Climate
Grenada has a humid tropical climate. The temperatures are generally consistent year-round. During hurricane season, Grenada often experiences heavy winds and rain.
Key People

Cuisine

Grenada's nickname is "Isle of Spice," and it produces nutmeg, cinnamon, ginger, bay leaves, clove, and other spices. The abundance of spices makes Grenadian dishes rich and flavorful. Grenadian cuisine is influenced by a mix of Arawak, African, French, and British cuisines. The national dish of Grenada is called Oildown, which is a salted meat and vegetable stew. Another common Grenadian dish is called callaloo soup, which is made from a tough leafy green called callaloo.

Sports

Like many other Caribbean nations, the most popular sport in Grenada is cricket. The Grenada National Cricket Stadium is located in the capital city of Saint George's. Football is also a popular sport in Grenada. Since it is an island nation, many water sports are common in Grenada, including scuba diving, kayaking, snorkeling, kite surfing, and sailing.

Culture

Grenadian culture is influence by its African, Carib Amerindian, and French roots. Storytelling is an important tradition in Grenada, and folktales and legends have been passed down orally through generations. Music is another important aspect of Grenadian culture. The most popular kinds of music in Grenada are soca, calypso, and reggae.
10 facts about Grenada
1. The official currency of Grenada is the Eastern Caribbean dollar.
2. Grenada's main export is nutmeg.
3. The life expectancy in Grenada is 72 years.
4. The Grenada Dove is the national animal of Grenada.
5. Grenada has a coastline of 121 km.
6. There are only three traffic lights in Grenada.
7. British spelling is taught in Grenadian schools.
8. Grenada is home to the world's first underwater sculpture park.
9. Grenada is a nesting place for leatherback turtles.
10. There are no venomous snakes in Grenada.
Q&A Corner
1. What is the tallest mountain in Grenada?
+
2. Who were the first inhabitants of Grenada?
+
3. What type of climate does Grenada have?
+
4. What is the capital city of Grenada?
+
5. When did Grenada become an independent country?
+
6. Name a key/famous Grenadian?
+
7. What is the most popular sport in Grenada?
+
8. How many stars are on the Grenadian flag?
+
9. What is Grenada's world land mass ranking?
+
10. What is the national dish of Grenada?
+