Kiribati
Brief History
Kiribati is an island country in the central Pacific Ocean. The first settlers of Kiribati came from Southeast Asia around 1000 A.D. Fijians and Tongans arrived in Kiribati during the 1300s and merged with the older groups to form the I-Kiribati Micronesian society and culture. Europeans arrived on the islands during the 1500s. The British began to arrive in larger numbers during the 1800s, introducing diseases to Kiribati and causing conflict.  Britain took control of the islands in 1892, and Kiribati became an official British colony in 1912 (at the time Kiribati was called the Gilbert Islands). Japan gained control of some of the islands, including an atoll called Tarawa, during World War II. In November 1943, Tarawa was the site of one of the bloodiest battles in U.S. Marine history. Kiribati became an independent nation on July 12th, 1979.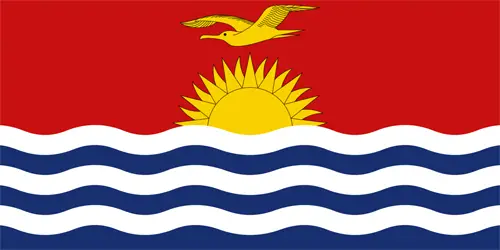 National Flag
The national flag of Kiribati was officially adopted on January 12th, 1979. The flag is red on the upper half with a gold frigatebird over a gold rising sun. The lower half of the flag is made up of blue and white wavy stripes that represent the ocean.
Geography
Kiribati is located in the central Pacific Ocean. It is made up of 32 very low-lying coral atolls and one island. Kiribati's topography is very flat. The islands are surrounded by large coral reefs.
World Land Mass Ranking: 186th
Highest Mountain: No mountains
Longest River: No rivers
Main Languages
English, Gilbertese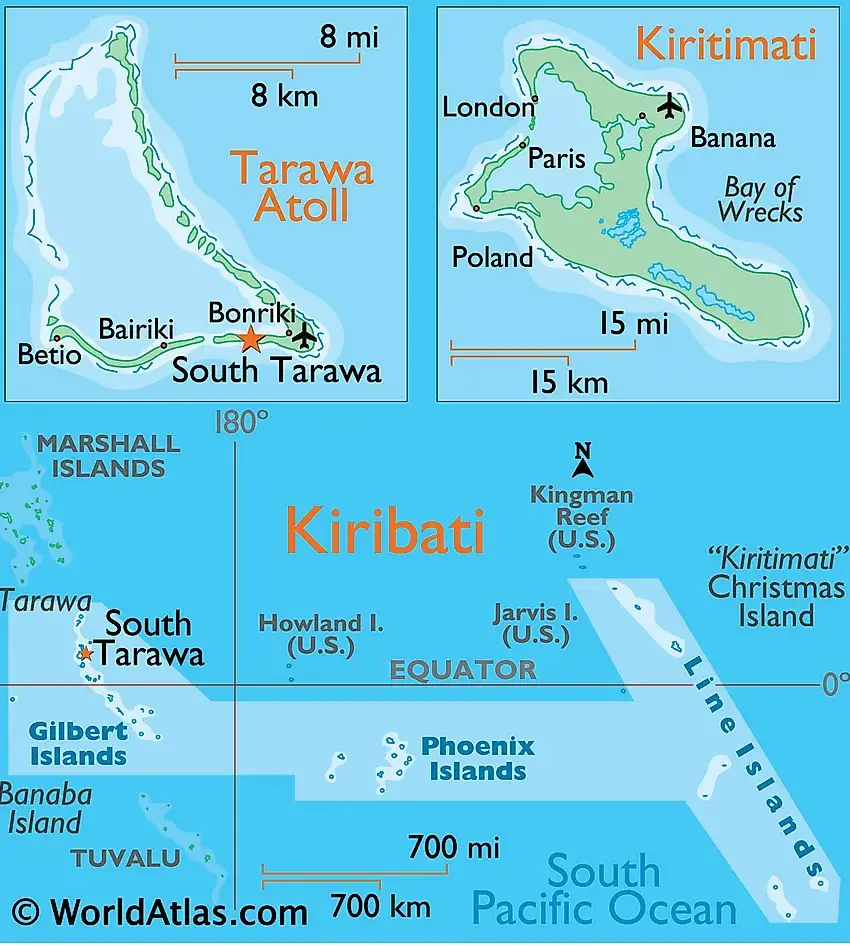 Kiribati Population: 125,000 (as of 2023)
Capital City: Tarawa
Capital City Population: 119,000 (as of 2023
Climate
Kiribati has a tropical climate and is hot and humid year-round. The average temperature in Kiribati is 28 degrees Celcius (84 degrees Fahrenheit). In the capital city Tarawa, the average annual rainfall is about 2,100 mm.
Key People

Cuisine

Since Kiribati is an island nation, I-Kiribati cuisine is based on rice and fish. Seafood commonly eaten in Kiribati includes yellowfin, lobster, shrimp, tuna, and crabs. Pulusami (wrapped bundles of taro leaves with a coconut and onion filling) is the national dish of Kiribati. Coconut, breadfruit, sweet potatoes, and bananas are the main crops grown in Kiribati.

Sports

Football (soccer) is very popular in Kiribati. Their national football team is a part of the Oceania Football Confederation. Other popular sports in Kiribati include volleyball, table tennis, basketball, athletics, and table tennis. In 2014 in Glasgow, Kiribati won its first-ever Commonwealth Games medal when weightlifter David Katoatau won gold.

Culture

Although Kiribati is a small country, it has a rich culture focused on family, religion, and the sea. Traditional music and dance are an integral part of I-Kiribati culture. Kiribati folk music incorporates chanting and body percussion. Literature, martial arts, and traditional celebrations are also important parts of I-Kiribati culture.
10 facts about Kiribati
1. There is only one main road in Kiribati.
2. 21 of Kiribati's 33 islands are inhabited.
3. Scuba diving is popular in Kiribati.
4. It is the only country that crosses four hemispheres.
5. Kiribati became a member of the UN in 1999.
6. Kiribati is the third-least visited country.
7. The Australian dollar is Kiribati's national currency.
8. Kiribati is under threat of being engulfed by the sea.
9. The life expectancy in Kiribati is 67 years.
10. The Magnificent Frigate Bird is Kiribati's national animal.
Q&A Corner
1. What type of climate does Kiribati have?
+
2. Name a key/famous I-Kiribati?
+
3. What is the capital city of Kiribati?
+
4. How many islands and atolls make up Kiribati?
+
5. What is the population of Kiribati (as of 2023)?
+
6. When did Kiribati become an independent nation?
+
7. What bird is on the Kiribati flag?
+
8. Name a sport that is popular in Kiribati?
+
9. What languages are spoken in Kiribati?
+
10. What is the average annual temperature in Kiribati?
+