Latvia
Brief History
Latvia was first settled by Baltic tribes thousands of years ago. They mainly fished, hunted, and traded. In the 800s, Vikings took control of the region that is now Latvia. German crusaders came to Latvia at the end of the 12th century, and Latvians lost control of their homeland. Over the next hundreds of years, Danes, Swedes, and Poles all invaded Latvia. In 1721, Russia took control of Latvia. In 1918, Latvia declared independence. During World War II, Nazi Germany occupied most of Latvia, and many Latvian Jews were killed. The Soviet Union invaded Latvia during World War II. The Soviets forced over 100,000 Latvians to move to northern Russia. In 1991, The Soviet Union collapsed and Latvia gained independence.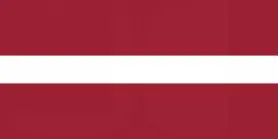 National Flag
The national flag of Latvia is carmine red with a white horizontal stripe. The red represents Latvian blood spilled in wars, and the white represents peace and independence.
Geography
Latvia is located in north-eastern Europe, with a coastline along the Baltic Sea. Latvia borders Estonia, Russia, Belarus, and Lithuania. Grasslands, low hills, marshy meadows, and plains make up most of the country.
World Land Mass Ranking: 125th
Highest Mountain: Gaiziņkalns Hill, 311 m (1,020 ft).
Longest River: Daugava River, 1,020 km (634 mi).
Main Languages
Latvian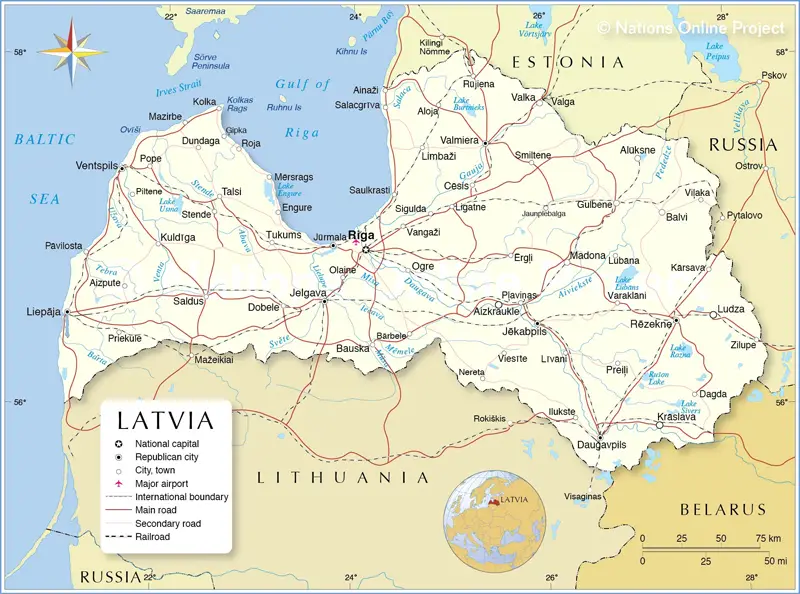 Latvia Population: 1.8 million (as of 2023)
Capital City: Riga
Capital City Population: 621,000 (as of 2023)
Climate
Latvia has a semi-continental climate. It is very cold in the winter, and mild and rainy during the summer. Coastal Latvia is more temperate, windy, and humid. Eastern Latvia has a slightly more continental climate.
Key People
Cuisine

Latvian cuisine has been influenced by other Baltic countries. Common ingredients in Latvian cuisine include potatoes, rye bread, pork, fish, dairy, vegetables, and berries. The national dish of Latvia is pelēkie zirņi ar speķi, which is a stew made with grey peas, fried onions, and diced speck. One popular Latvian dessert is a bread soup called maizes zupa.

Sports

Sports and activities are an important part of Latvian life. The most popular sport in Latvia is football, but the national sport is Ice Hockey. The Latvia men's national ice hockey team has competed in various international ice hockey competitions, including the World Championships and the Winter Olympic Games. Other sports that are popular in Latvia are basketball, athletics, rugby, tennis, and cycling.

Culture

Latvian culture has been influenced by many different groups throughout the nation's history. However, Latvians continue to observe the traditions of their ancestors. Traditional Latvian dances and songs date back thousands of years. Other important aspects of Latvian culture include traditional folklore, crafts and handiwork, and festivals.
10 facts about Latvia
1. Latvia has over 12,000 rivers.
2. Latvian is one of Europe's oldest languages.
3. Summer Solstice is the biggest holiday in Latvia.
4. Latvia is home to 2 UNESCO World Heritage Sites.
5. The white wagtail is Latvia's national bird.
6. Over half of Latvia is forested.
7. Latvian women are the tallest in the world.
8. The average life expectancy in Latvia is 75 years.
9. Latvians love to dance and sing.
10.Latvia has almost 500km of coast.
Q&A Corner
1. Name a sport that is popular in Latvia?
+
2. What is the highest mountain in Latvia?
+
3. What is the official language of Latvia?
+
4. What colors make up the Latvian flag?
+
5. Name a key/famous Latvian?
+
6. What is the longest river in Latvia?
+
7. What type of climate does Latvia have?
+
8. What is the population of Latvia (as of 2023)?
+
9. What is the capital city of Latvia?
+
10. When did Latvia become an independent country?
+